The Fancy Four Station Restroom Trailer
The Everest with Ritz Package Upgrade
Cherry wood with wooden floors. Glass for sinks and wood pattern swirl wall coverings. The Everest is the most elegant trailer you can purchase for wedding events. With glass bowel sinks and cherry wood trim, cherry wood paneled doors, and two sinks in the ladies' side, it is a dream!
Interior
Stereo with inside speakers
Double Rolled Tissue Dispenser
Hand formed solid surface countertops
Interior volt Ceiling lights
Designer Laminate Wainscot Walls
Commercial Rubber Base Board Trim
Safety Mirrors over sinks
Electrical Receptacle in Mechanical Room
Battery shall be a deep cycle marine-style.
Paper Towel Dispensers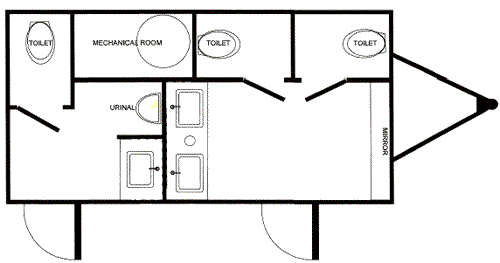 Electrical
Electric Water Heater
Ducted Air Conditioning with return vents
110-v to 12 V Electrical Converter with charge protection
Switched Exterior Sate light @ Each Door
20 Amp Electrical Shore line cord -Per Model
DOT Safety Exterior Light Package
12 Volt Exhaust Roof vents in each unit
Light Switches located in Each Room
Doors/ Windows/ Entrance
A deadbolt latch on Exterior Door with Matching Keys
White Dent Resistant Entrance I Exit Doors
Mini Rain Gutters Over each Door
Rugged Handrails designed for easy set up and durability
Full-length mini ran gutters, with mini extensions
Plumbing
Fresh Water 165Gal or
City Water hook-up with control valve
China Foot Flush White Stools
Shut-Off Valves each stool
Vanity Base Cabinet with locking door
Commercial China White Waterless Urinal
Stainless steel lavatory sinks
Exterior - While Gelcoat